The EB-5 Summit For Attorneys and Developers
Los Angeles, CA - February 20th, 2015
Speakers: Angelo Paparelli (Discussion Leader), Mahsa Aliaskari, Allen Chi, David Hirson, Nima Korpivaara, Dawn Lurie, John Neill, Michael Petrucelli, John Roth, Reid Thomas, and Greg White.
CLOSED
WHO SHOULD ATTEND
This event will be beneficial to anyone involved in EB-5. The event day will bring together experts and practitioners on all sides of the EB-5 equation. After each panel, guests will have the opportunity to discuss EB-5 issues among themselves and with speakers. This is a CLE workshop, however it is designed to be materially useful to Regional Center executives and real estate developers also, in addition to immigration attorneys.
WORKSHOP OUTLINE
8:30 - 9:00

Registration - Continental Breakfast and Handouts Provided

9:00 - 10:00
Where does EB-5 fit in the Capital Stack
How does one find investors
10:00 – 10:10
Networking Break

10:10 - 11:00
Lawfully Advising on Choosing A Project

11:00 - 11:10
Networking Break

11:10 - 12:00
Developing the I-924 Application
12:00 – 1:00
Lunch

1:00 – 1:50
I-526 Petitions and Source of Funds Issues
1:50 - 2:00
Networking Break

2:00 - 2:50
I-829 Applications and Documenting Job Creation
2:50 - 3:00
Networking Break

3:00 – 3:30
Security Issues in EB-5

3:30 – 3:40
Networking Break

3:40 – 4:10
Funds Administration

4:10 – 4:20
Networking Break

4:20 - 4:50
Economic Impact Analysis
4:50 – 5:00
Networking Break

5:00 - 6:00
Roundtable with all speakers on all EB-5 Matters
EVENT SPONSORS:
E3 Investment Group structures offerings that allow foreign investors the opportunity to receive green cards under the U.S. Government's EB-5 program. They have a unique expertise in creating opportunities that do not involve regional centers, but offer all of the benefits of a scaled organization without the negatives. They call this Scalable-Direct. In essence, they are the Non-Regional Center.
NES Financial provides technology-enabled services for the efficient middle and back office administration of highly specialized financial transactions. Our custom solutions include EB-5 escrows, 1031 exchanges, and fund administration transactions. Many of the world's largest financial institutions and corporations rely on our proprietary technology, unparalleled expertise, and outstanding services to ensure the secure, transparent, and compliant management of funds. Recognized two years in a row by Inc. Magazine's 500|5000 as one of the fastest growing private companies in America, NES Financial helps companies lower operational costs, reduce risk, and improve ROI. For more information, visit www.nesfinancial.com.
Seyfarth Shaw LLP provides thoughtful, strategic, practical legal counsel to client companies and legal teams of all sizes. With more than 800 attorneys in the U.S., London, Shanghai, Melbourne and Sydney, we offer a national platform and an international gateway to serve your changing business and legal needs in litigation, employment, corporate, real estate and employee benefits. For more information, visit www.seyfarth.com/.
To become a sponsor, click here.
ABOUT THE SPEAKERS
| | |
| --- | --- |
| | Angelo Paparelli is a partner of Seyfarth Shaw LLP. Mr. Paparelli, with a bicoastal practice in Southern California and New York City, is known for providing creative solutions to complex and straightforward immigration law problems, especially involving mergers and acquisitions, labor certifications and the H-1B visa category. His practice areas include legislative advocacy; employer compliance audits and investigations; U.S. and foreign work visas and permanent residence for executives, managers, scientists, scholars, investors, professionals, students and visitors; immigration messaging and speech-writing; corporate policy formulation; and immigration litigation before administrative agencies and the federal courts. He is frequently quoted in leading national publications on immigration law. He is also a past President of the Alliance of Business Immigration Lawyers, a global consortium of leading immigration practitioners. Paparelli's blog and a comprehensive list of his many immigration law articles can be found at www.entertheusa.com. He is an alumnus of the University of Michigan where he earned his B.A., and of Wayne State University Law School where he earned his J.D. Paparelli is admitted to the state bars of California, Michigan and New York. Angelo is one of the most highly regarded business immigration lawyers and scholars in America. He is named a "Star Individual" for California (above Band 1) in the 2014 edition of Chambers USA. |
| | Mahsa Aliaskari is a Principal at Polsinelli, PC. She has dedicated her legal career to guiding and advising clients through the labyrinth that is U.S. immigration law. As an immigrant who, at one time, also ran a business, Mahsa brings a truly unique perspective to each engagement. With each case, her focus is to understand the operations of each business. With this understanding, she is better equipped to work with clients in developing strategies that make sense to them; strategies that can be implemented with limited disruption to their world. Whether a project involves visa sponsorships, business expansions to the U.S., EB-5 investments and funding, or immigration compliance, Mahsa is always cognizant of the importance of business practicalities. From professionals, investors, and artists to national and international organizations, the ease of global mobility is important in any setting and with that in mind Mahsa is focused on seamless transitions. Working with business owners and investors, she also has a niche practice with entrepreneurs and emerging companies. |
| | Allen Chi is the CEO of Mason Investments, Limited and Mainspring Capital Management. Mason Investments is a registered investment adviser (RIA) with the SEC and Mainspring Capital Management is a FINRA registered Broker-Dealer (member of SIPC). In addition, Mr. Chi has managed several investment partnership and the investments managed by Mr. Chi have averaged 65% annual rate of return. Mr. Chi holds Series 7, 24, and 66 licenses. He started his career at Bain & Company and is a graduate of Stanford University. |
| | David Hirson has more than 30 years of experience in the practice of immigration law. His focus is on EB-5 investment immigration law. He has been certified as a Specialist in Immigration and Nationality Law by the State Bar of California, Board of Legal Specialization continuously since 1990. |
| | Nima Korpivaara joined David Hirson & Partners, LLP in 2014. Nima handles all types of U.S. immigration, including complex matters associated with corporate business structure and EB-5 investor applications. Nima practices in the fields of corporate, investor (E-2 and EB-5) and family immigration law, representing large and small clients within a variety of industries. This includes temporary and short-term work visas, business visas, permanent residence (employment-based and family-based) and naturalization. Nima is primarily an attorney for a dedicated EB-5 practice within the firm, which involves advising individual investors and corporate clients on the requirements and ramifications of the USCIS EB-5 program. Nima is a nationally recognized expert in the field of EB-5 law, advising numerous regional centers, developers, and project principles on program compliance. Prior to joining David Hirson & Partners, LLP, Nima worked with David Hirson at a previous Firm, where he worked in the Firms EB-5 practice. Additionally, Nima worked in-house for a large information Technology Company, advising and processing immigrant and nonimmigrant visas, including extraordinary ability and labor certification cases |
| | Dawn M. Lurie is a shareholder at Polsinelli, PC. She is recognized in the legal community as a sophisticated and forward thinking immigration compliance authority and EB-5 investment strategist. She focuses on visa and compliance issues. Dawn is proud to be considered a trusted partner to corporate clients and is relied on for her ability to spot impending government enforcement trends. She has represented clients in the EB-5 program since the early years of the program's inception, in the 1990s. Her experience has evolved over the last two decades as the EB-5 program progressed from an obscure means of obtaining U.S. residency, to a viable mechanism of funding a significant portion of the capital stack for large-scale projects and infrastructure building across industries. Attending EB-5 Board hearings in D.C., participating in the stakeholder conversation process with the USCIS and advocating for EB-5 immigration reform, provides her clients with a unique Washington perspective. Dawn serves on the EB-5 trade association's (IIUSA) Best Practices Committee and is a past Chair of the DC Chapter of the American Immigration Lawyers Association (AILA). |
| | John Neill is a Principal at AKRF, Inc. and leads a team specializing in economics and real estate advisory services for private developers, institutions, and municipalities. His group has performed hundreds of economic and fiscal impact studies for public and private clients, including input-output modeling in support of EB-5 applications. His areas of specialty include socio-economic analysis, economic and fiscal impact studies, and market and feasibility studies. He also serves as a project manager for environmental reviews of major development projects in New York City, including most recently New York University's proposed campus expansion plan. He regularly works with real estate lawyers and has provided expert testimony on economic issues at City Council hearings. He has joint graduate degrees from Yale School of Management and Yale School of Forestry and Environmental Studies. |
| | Michael Petrucelli is a Principal and sr advisor at US Freedonm Capital. He served as Acting Director of US Citizenship and Immigration Services (USCIS) after previously working for two years as Deputy Director. Prior to USCIS, Mr. Petrucelli served as Senior Vice President for Operations and Chief of Staff of the Export-Import Bank of the United States. He has also served as a business policy advisor at the US Federal Communications Commission and as a career Foreign Service Officer at the US Department of State. |
| | John Roth is Managing Attorney at the Roth Immigration Law Firm. He is a member of the New York State Bar Association. In addition to being an immigration attorney, he has an extensive business background, including an M.B.A. For the Wharton School of Finance, a Series 7 and a Series 63 license, and he is a registered representative of a Broker-Dealer firm. His firm, EB-5 Analytics, provides due diligence analyses of EB-5 regional center projects for EB-5 Pilot Program immigrant investors. |
| | Reid Thomas is the Executive Vice President at NES Financial, leading the company's sales and marketing organization. He brings over 20 years of executive management experience at both private and public companies, including Laszlo Systems, Octel Communications, and VINA Technologies. During his time with NES Financial, Mr. Thomas has been instrumental in the rapid growth of the company's EB-5 business, making NES Financial the leader in EB-5 by providing innovative solutions specifically built for the industry. Mr. Thomas' active participation in the EB-5 community has made him a frequent and sought after speaker at events and conferences across the country. He has written numerous articles, blogs, and white papers on the topics of escrow and fund administration, solidifying his position as an industry expert. |
| | Gregory White is a Partner in the firm's Corporate Practice Group. Mr. White's practice focuses on the representation of corporations, private equity funds, venture capital firms, and corporations in financing, technology and M&A transactions.A substantial portion of Greg's practice includes high-tech and emerging growth companies in a number of industries, including software, telecommunications, data storage, mobile technology, medical technology and e-commerce. In addition to representing such companies in fundraising transactions, Greg's work for these clients includes representation in connection with corporate partnering, joint ventures and strategic alliances, as well as licensing, marketing, distribution, service, support, outsourcing, and other agreements.Mr. White has an extensive practice assisting venture capital and private equity funds in the capital formation and investment process and in connection with M&A transactions. His practice includes both start-up and public company work and he has extensive experience in the area of securities law practice and compliance. Mr. White is a frequent lecturer on various aspects of venture capital transactions and has authored articles and legal education publications on private equity transactions. Mr. White also serves, on behalf of the firm, in the capacity of general outside corporate legal counsel to a number of the firm's clients and in such capacity advises the boards of directors of firm clients on corporate governance issues and the fiduciary principles applicable to board oversight, including consideration of disclosure issues, major transactions, legal disputes and other similar matters. |
LOCATION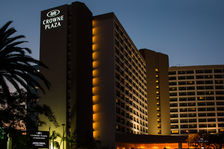 Crowne Plaza Los Angeles International Airport
5985 West Century Boulevard
Los Angeles, CA 90045

MATERIALS
Material included in the registration price is The EB-5 Book Third Edition ($149 value) and Forming and Operating an EB-5 Regional Center: A Guide for Developers and Business Innovators ($149 Value).
CLE CREDITS:
ILW.COM is accredited CLE Provider in State of California and Texas. Attorneys admitted in AK, CO, FL, MT, ND, NJ, NY (some exclusions apply) and WV are able to obtain MCLE credits through reciprocity with State of California. For remaining states, which require MCLE but do not accept reciprocity with any other jurisdiction, Certificate of Attendance for obtaining a self-study credits is available. Please note, CT, DC, MA, MD, MI and SD do not require MCLE.
TESTIMONIALS
Here are some participants' testimonials from previous workshops:
"As director of the Vermont EB5 Regional Center, who previously worked in muni and corporate bond industry, as well as has series 66 and series 7, I questioned whether the program would be worth my time. It was well worth attending." - Brent Raymond

"Absolutely invaluable to those who are new in the practice of EB-5" - Rose Bautista, JD. Immigration Information Specialist, County of Hawaii, Office of the Mayor.

"It covers both basic & complex info - something that anyone interested in EB-5 should attend." - Katie Wu

"Excellent comprehensive presentation that provided a perfect entree to the EB-5 Visa Category" - Mark Kalish

"Access to so many acclaimed professionals in the field at one time is well worth it." -Rani Emandi

"Great "Intro to EB-5" workshop. Get to hear from all parts of the EB-5 Industry." - Catharine Yen

"I think this would be useful to all people seeking investors from other countries." - William Howell

"Coming in with no prior legal, let alone EB-5, experience, I found the lectures very logically formed & easily accessible." - Khalid Raoof

"An essential conference to stay on the cutting edge of EB-5." - Boyd Campbell

"I like the format/organization of the topics presented during the workshop." - Pamela Toyos

Very positive and structured with an emphasis on cutting edge information." - Michael Harris

"A frank and informed foundation for dealing in the EB-5 visa world." - Art Williamson

"Excellent info on EB-5." - Mazher Shah-Khan

"The EB-5 discussions are essential and understanding new trends and USCIS recent policies which effect a successful EB-5 project." - Ed Beshara

"It teaches everything about EB-5 in a day. It was worth travelling from India to attend this workshop." -Sudhir Shah

"I learnt a lot. All the speakers are very knowledgable and articulate. The discussion is very lively and not boring at all."-Yee Ling Poon

"The EB-5 Workshop provides hands-on, practical knowledge straight from experienced stakeholders. Highly recommended." -Jesus Rios
REGISTER NOW
If you prefer to sign up by mail or fax or to learn more about the sponsorship opportunity click here.
Disclaimer: participation in this workshop does not create an attorney-client relationship with the speakers
---