The Asylum Clock has been the bane of asylum seekers and their lawyers since it was created in 1994 (and codified into law in 1996).  It requires an asylum applicant to wait 150 days before applying for an employment authorization documents ("EAD"), but the clock "stops" if the applicant causes a delay in her case.  The idea was to dissuade people from filing frivolous asylum applications in order to get EADs.  The problem, however, is that legitimate applicants are often prevented from obtaining EADs for seemingly random and inexplicable reasons.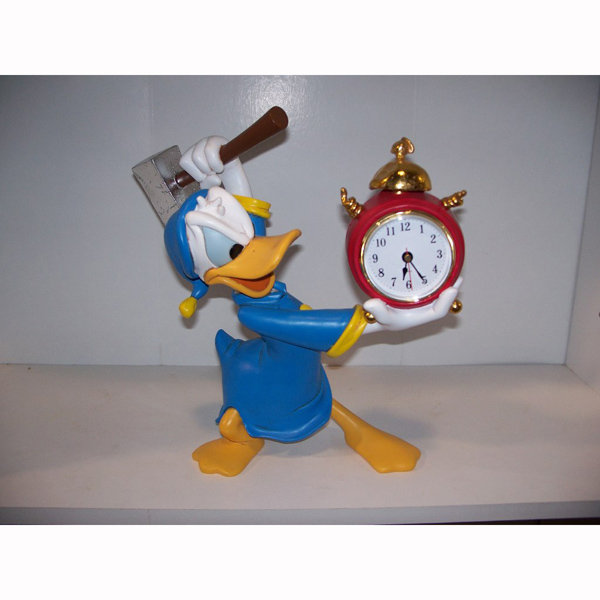 In this artist's rendition of the destruction of the Asylum Clock, AIC and NWIRP are represented by Donald Duck.
One reason for this problem is that the regulations implementing the Clock are vague, and are interpreted differently by different Immigration Judges.  So for example, most of my cases are in the Immigration Courts in Baltimore, Maryland or Arlington, Virginia.  Clients with the same case will receive an EAD in one court, but not the other.  All because the regulations are interpreted differently in different places.  For a good analysis of the Asylum Clock, check out this report: Up Against the Clock: Fixing the Broken Employment Authorization Asylum Clock prepared by the American Immigration Counsel and Penn State's Dickinson School of Law.
Now, the American Immigration Counsel ("AIC") and the Northwest Immigrant Rights Project "(NWIRP") are exploring potential litigation on behalf of individuals who have been unable to obtain employment authorization due to Asylum Clock problems.  The organizations are looking for potential plaintiffs in the following three categories:
(1) Applicants whose clocks have not started and will not start until the next scheduled master calendar hearing because their applications are not yet considered filed in immigration court;
(2)  Applicants whose clocks have not started or restarted even after alleged applicant-caused delays have been resolved; and
(3) Applicants whose clocks have not started or restarted after their cases were remanded following appeal.
If you have a client in one of these categories who might be willing to participate in litigation, please contact Agnes Gyorfi at AIC at (202) 507-7523 or agyorfi.immcouncil@gmail.com by Friday, September 16, 2011.
Here's hoping that AIC and NWIRP are able to pursue this litigation and knock some sense into the Asylum Clock.
Originally posted on the Asylumist: www.Asylumist.com.
---
About The Author

Jason Dzubow's practice focuses on immigration law, asylum, and appellate litigation. Mr. Dzubow is admitted to practice law in the federal and state courts of Washington, DC and Maryland, the United States Courts of Appeals for the Third, Fourth, Eleventh, and DC Circuits, all Immigration Courts in the United States, and the Board of Immigration Appeals. He is a member of the American Immigration Lawyers Association (AILA) and the Capital Area Immigrant Rights (CAIR) Coalition. In June 2009, CAIR Coalition honored Mr. Dzubow for his Outstanding Commitment to Defending the Rights and Dignity of Detained Immigrants.
---
The opinions expressed in this article do not necessarily reflect the opinion of ILW.COM.
---
---
Share this page
|
Bookmark this page
The leading immigration law publisher - over 50000 pages of free information!
© Copyright 1995- American Immigration LLC, ILW.COM