The wife of alleged Russian arms smuggler Viktor Bout claims that U.S. officials offered political asylum to Mr. Bout and his family in exchange for information about international arms trafficking.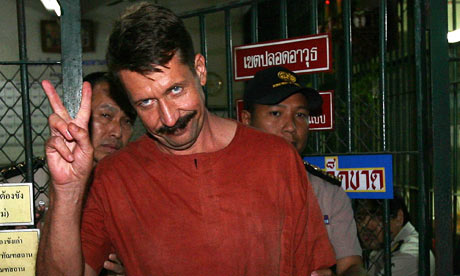 Viktor Bout flashes a V sign while detained in Thailand: Does it stand for Victim or Villian?
According to Voice of America, Mr. Bout was extradited from Thailand to the United States after more than two-years of legal battles between Moscow and Washington.  Mr. Bout is alleged to be one of the world's most notorious arms smugglers and is accused of fueling conflicts in Africa, the Middle East, and South America.  He was arrested in Thailand in 2008 after a sting operation in which undercover American officials claimed to be members of the FARC, the Revolutionary Armed Forces of Colombia.
Alla Bout says her husband's extradition was illegal because there was still a case against him pending in court in Thailand.  She says that transferring her husband to the United States before the end of legal procedures in Thailand breached legal and humanitarian norms, and demonstrates Bangkok's complete subservience to Washington.
An open question is whether U.S. officials offered Mr. Bout and his family political asylum in exchange for information about arms trafficking.  Such a deal would not be unprecedented: During the Cold War, for example, a number of Soviet defectors were granted asylum in the United States, often in exchange for information about the U.S.S.R., or for propaganda purposes.  I do not know whether to believe Ms. Bout's claim that U.S. officials offered her husband asylum in exchange for information about arms trafficking.  If the claim is true, it would appear that the United States has now chosen a stick over a carrot as a means of extracting information from the alleged arms dealer.  
On his website, Mr. Bout claims that the charges against him were fabricated by a "corrupt United Nations contractor… [who] became mad for vengeance when Victor [Bout] refused to continue paying him."  Perhaps, but there seems to be some pretty strong evidence against him, including evidence documented in a book: Merchants of Death by Douglas Farah.  In any case, Mr. Bout's guilt or innocence is now an issue for the United States justice system, where he faces charges such as conspiring to kill Americans and supporting a terrorist organization.
Originally posted on the Asylumist: www.Asylumist.com.